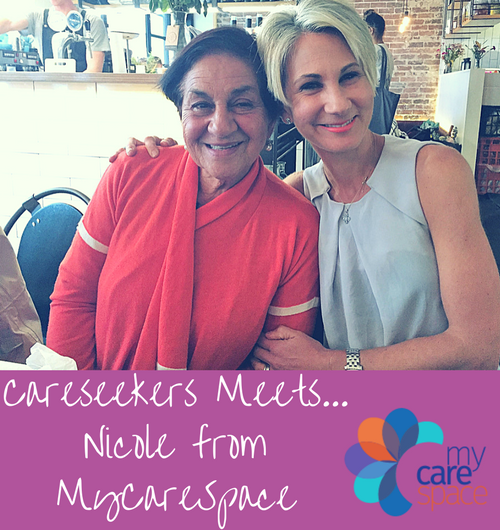 Have you heard of MyCareSpace? – a fantastic new platform connecting consumers to providers and services in the disability sector.
Why did you decide to create MyCareSpace?
My mother lost her sight late in life because of macular degeneration. I experienced first- hand how tough life can be when you have a disability. It became evident to me how important it is to be informed before making important health and lifestyle choice.
Choice is a big buzz word with the rollout of the NDIS over the next 2 years. Having choice can also create stress for many people. We developed MyCareSpace to support better informed choices and on a very practical level, to help people and providers connect.
I am passionate about inspiring people to reach their full potential and MyCareSpace encourages people to explore and seek out new experiences. My partner Bianca and I want to empower people so that they can enhance the quality of their own life.
What was the gap in the market you are trying to fill?
Many forums exist on social media for people to solicit views and ideas from their peers, however the quality and accuracy of the information on these forums varies widely and in some cases, is factually incorrect.
There is an abundance of information available but it's not always easily accessible. We aim to make quality information easily accessible via our directory, resources and personal stories. As an outcome, we help connect people with providers.
For providers, we offer an efficient and authentic way of marketing themselves – word of mouth is the most trustworthy form of marketing. Our platform facilitates that via our review and rating system.
Who is it for? Is it only relevant to people with NDIS funding?
There are over 4 million people in Australia with a disability and only about 10% of these people will be able to access the NDIS. Our platform is for anyone with accessibility requirements or a disability, including their families and carers. Its free for people to access and NDIS as well as non- NDIS providers can list their businesses.
At this stage, most of the 5,000 providers are NDIS registered but our aim is to complement this with a much broader network of community based, non-funded supports as we believe these will become equally, if not more important, as people become increasingly independent over time.
What exciting things do you have on the horizon for MyCareSpace?
The sky is the limit!! The more time we spend speaking to customers and providers, the more exciting ideas my partner Bianca and I have. We are very keen to continue to partner and collaborate with a broad range of stakeholders and organisations like Careseekers, sharing similar aspirational values and seeking to create greater transparency across the disability sector.
We will continue to develop resources for users which are practical and relevant. For example, we recently created a resource on Music therapy which provided the evidence on how and why it works, together with some ideas on how this type of therapy can be included in an NDIS plan and then shared a list of Music therapist listed on the MyCareSpace directory.
What excites you about the NDIS?
There are many things that excite me about the NDIS. Firstly, at a policy level, the focus on the lifetime needs of a person, which recognises the importance of early intervention and spending more upfront. I strongly believe over time this will have a huge impact in making people economically and socially independent.
Another exciting outcome of the NDIS is the proliferation of start-ups in the sector who are agile and innovative in their approach to meeting customer needs.
How can individuals and organisations best use the site?
Take some time to browse our categories which are deliberately wide and aspirational as our aim is to encourage people to explore and seek out new experiences.
If you know the category of support you need, our directory has a very powerful search filter which allows you to find new providers in different ways – key word search, business name, accessibility requirements, post code or NDIS only providers. My suggestion is start with as wide a search as possible and then narrow it down depending on your flexibility.
Don't underestimate the impact of our personal stories as a powerful way of sharing knowledge. For example, Madison, De Rozario's views on body image have forever changed my perception of my own body.
Finally, the success of our platform depends on people sharing their views and experiences openly. Whether you have had a positive or negative experience in your personal capacity or with a provider, share your story with us or leave a review– it may change the choice someone else makes and as a result lead to a happier outcome!
Don't waste time, it's free so register today and share your story or a review with us: https://mycarespace.com.au/
To become a care or support worker, please visit www.careseekers.com.au/carer
To find aged care services, please visit https://www.careseekers.com.au/services/aged-care-workers
To find disability support services, please visit https://www.careseekers.com.au/services/disability-support-workers